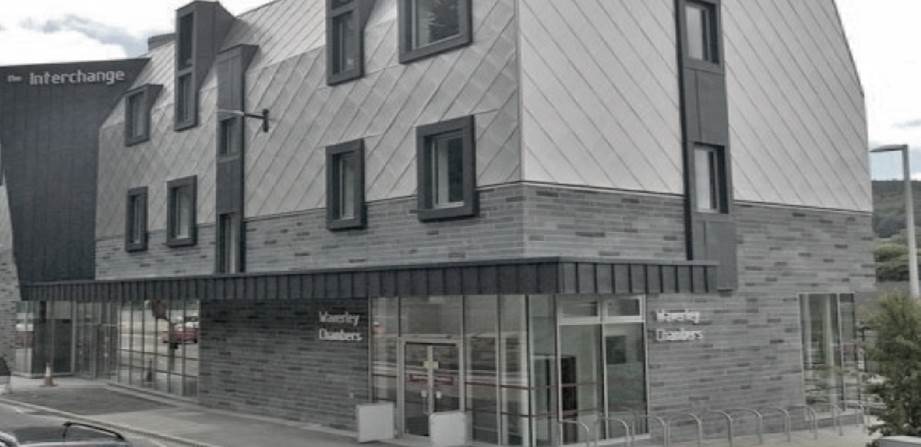 Borders Growth On Track As Davidson Chalmers Opens New Gala Office.
Date: 03/02/2016 | DCS News
Davidson Chalmers has announced it is to open a new office in the Scottish Borders within the £5.2m Galashiels Interchange. The recently opened purpose built office facility was designed to help facilitate business growth for the region following the launch of the new Borders rail link last year.
Davidson Chalmers' new office will act as a regional hub for the firm, which initially began operating in Edinburgh in 1993 and has since grown in size to 46 staff including 11 partners. Borders-based businesses operating within a range of sectors including renewable energy, food and drink, hospitality and healthcare account for a sizeable proportion of its UK-wide client base.
Davidson Chalmers has maintained a long-term commitment to the area, sponsoring the Melrose RFC Ladies team and the Vets tournament played in the town each year as part of the Melrose 7s rugby festival. The firm is also an ongoing sponsor of the Borders Book Festival and is currently supporting the work of The Borders Kids Wing appeal.
The new Borders office will be headed up by Davidson Chalmers partner Andy Drane, a long-time resident of the region who lives in St Boswells. He said:
We believe the new rail link is a real game changer for the central Borders which will open it up to new business opportunities. We are therefore delighted to be opening this new office in the Galashiels Interchange, a move which represents a natural progression to our long-standing commitment to the area and which will enable us to grow our client base here.
Davidson Chalmers works across a number of core sector areas which are thriving within the Borders, representing a range of clients from individuals to large organisations. The new office will help ensure we are ideally placed to do even more to support the growth of the Borders economy. As someone whose family lives in the local area, I'm very excited about having a regular presence here to build upon the solid base we have established within the area.
Scottish Borders Council Leader, Councillor David Parker, said:
The Galashiels Transport Interchange is a landmark building for Borderers and visitors using the Railway, who have been equally impressed by the facility. "I am delighted Davidson Chalmers is the first company to move into the Transport Interchange and hope to see other firms take on office space in this attractive building in the near future.