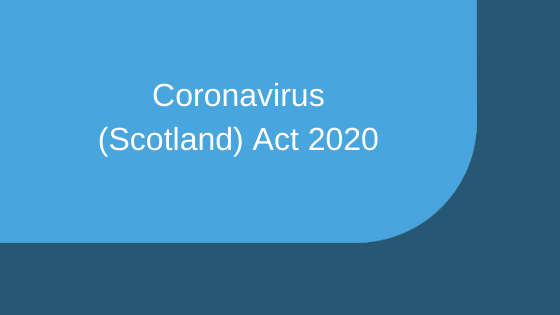 The Coronavirus (Scotland) Act 2020 came into force on 7 April 2020. This Act makes changes of a temporary nature to a number of areas of law and we have prepared a series of updates to summarise the effect of the changes. The updates are summarised and can be accessed using the links below. Other COVID-19 related updates can be viewed here.
Stephanie Mackenzie outlines changes that provide additional protection to commercial tenants and changes to the land registration process here.
Dispute Resolution summarises new parts of the Act that affect the operation of civil court business here.
Andrew McDonald outlines temporary amendments to notice periods for the different subsisting types of residential tenancies here.
Head of Planning Jacqueline Cook provides an update on planning services in Scotland here.
Data Protection expert Laura Irvine outlines temporary extensions to deadlines under Freedom of Information legislation here.
If you have questions on any of the above areas of law affected by the new Act, please contact your usual Davidson Chalmers Stewart contact or the authors of the relevant updates above.
Disclaimer
The matter in this publication is based on our current understanding of the law. The information provides only an overview of the law in force at the date hereof and has been produced for general information purposes only. Professional advice should always be sought before taking any action in reliance of the information. Accordingly, Davidson Chalmers Stewart LLP does not take any responsibility for losses incurred by any person through acting or failing to act on the basis of anything contained in this publication.