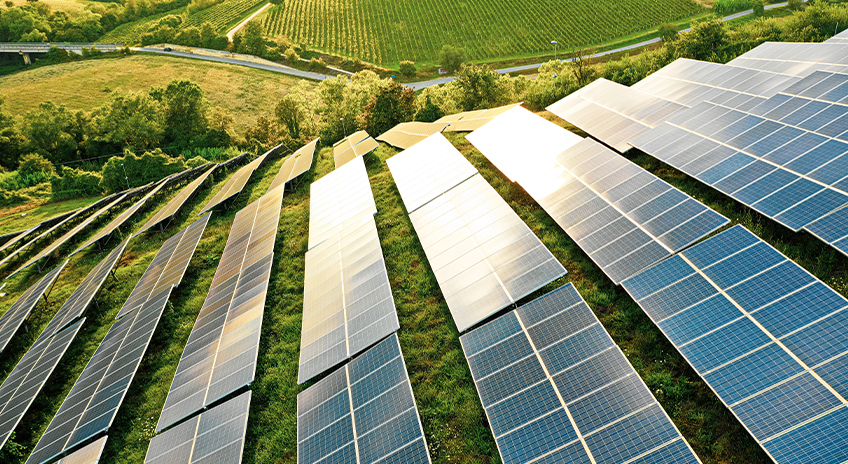 With one of the world's most ambitious carbon net zero targets, Scotland is a great place for landowners looking to use their land to generate renewable energy. Onshore wind remains Scotland's single most important energy source at 66% of installed renewable capacity, with offshore wind hard on its heels, but there are also plentiful opportunities for landowners looking to exploit hydro, photovoltaic solar, biomass and anaerobic digestion (AD) options. Renewable energy generation has been given added impetus by the current global energy crisis. Development will only accelerate that growth.
Despite the obvious environmental and economic benefits of renewable energy projects, landowners need to plan carefully to ensure their land delivers its full potential and that they avoid the many risks involved with these complex projects. You will require an expert team of advisers who can successfully steer you through the legal, financial, planning, technical and logistical challenges you will face over the course of any renewable energy project.
Tempting as it might be to think this is something your current lawyer can deliver, it is one that requires a very specific skillset that is both highly specialised and wide-ranging. That's one of the reasons many landowners' regular lawyers defer to a specialist to handle projects on their behalf, recognising their ability to cut straight through to the key issues and their extensive knowledge of dealmaking with renewable energy developers and suppliers.
A good specialist renewables law firm will help you assemble the best and most effective team to deliver your project. This will include specialist planning consultants, land agents, and accountants who are fully versed in the nuances of energy production, environmental considerations and all of the financial and tax implications that need to be taken into account. There is considerable crossover between each of these roles, so it is imperative that the team you assemble has a strong collaborative working relationship.
Planning is everything
Planning doesn't just mean securing planning permission for the project. It means planning everything from the route to get the technology on site to the export route to get your energy onto the grid. It means planning what you will do with the income from the project, establishing your exit strategy and tackling any inheritance issues arising from the project. For many landowners, large scale renewables produce life-changing amounts of money and planning how you will deploy that wealth is an important part of the process.
An experienced renewables lawyer will work closely with you to understand your motivation and long-term aspirations and help you achieve your goals. Their knowledge of all the potential options for your land will ensure that you are making the best possible use of it in ways that match your values, beliefs and your attitude to risk.
What is the right renewable technology for my land?
There are three key things that dictate the viability of any renewables scheme. These are: planning permission, the availability of a grid connection and the abundance of fuel. For wind power, that fuel will be windspeed and consistency, for hydro it will be the head and consistency of water flow and for biomass and anaerobic digestion it will be the availability of feedstock. Feedstock for AD can come from various sources such as slurry or crops you can grow, such as red clover. If your land is near a conurbation, or food processing plant, you might consider adding food waste to your feedstock which could generate additional income in the form of gate fees.
Getting connected to the grid can be more challenging and will depend on the infrastructure in your area. In some instances, it may cost millions in wired connections and wayleave payments to export your power so, unless you can find a use for it onsite or to local users via private wire, it would render any project unviable. This is a particular problem in the south of Scotland where there are large tracts of land with renewable generation potential but limited routes to export it to the grid. Davidson Chalmers Stewart is working with energy suppliers to try and improve the situation there.
Despite a favourable landscape from national government, the planning permission process remains the biggest challenge of all in terms of cost, time and uncertainty. Negotiating that will often mean going through a series of appeals and the likelihood of getting planning may well influence which type of renewable technology you choose. While a visible solar or wind farm might raise objections, a hydro, AD or Biomass plant might slip through more readily.
What's the best deal for me?
This is where a highly experienced team can really help. There is a range of options to choose from, each with potential advantages, as well as pitfalls. You can choose to go it alone and invest your own capital or you can look for a developer or investor to whom you could lease the land or enter a partnership with. An expert team will be able to advise what will be most advantageous for you and will negotiate optimal terms if you do decide to involve other parties in the project.
There may be tax and inheritance implications so again it is important to share your aspirations for the project at an early stage so your team can provide clear advice about what will work best for you. An experienced renewables team will have a strong idea of the investment and development landscape and will help you partner with someone you can trust.
Where to start?
Trade conferences such as "All Energy" are not a bad place to get the lie of the land but do keep in mind that most of the people there will be trying to sell you something. Talking to fellow landowners who have already taken the plunge with renewables is also very helpful and can give you a real insight into what is involved. They may well be able to recommend people who formed part of their team or tell you what didn't work for them.
And of course, a specialist renewables lawyer will also give you a good idea of what might work best for you. We have formed collaborative teams which have delivered innovative and successful renewable energy projects right across Scotland. Like other law firms specialising in this area, our first consultation is free and we'd be happy to share our wealth of experience with you to offer advice and help you get your project underway.
For more information please contact a member of our specialist Renewables Team.
Disclaimer
The matter in this publication is based on our current understanding of the law. The information provides only an overview of the law in force at the date hereof and has been produced for general information purposes only. Professional advice should always be sought before taking any action in reliance of the information. Accordingly, Davidson Chalmers Stewart LLP does not take any responsibility for losses incurred by any person through acting or failing to act on the basis of anything contained in this publication.